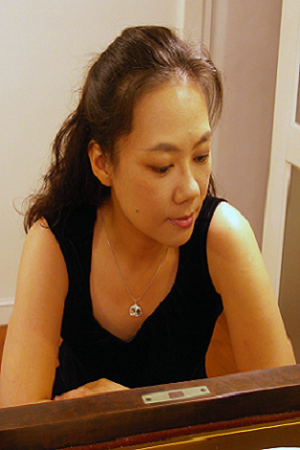 Chia-Wei Chung
Chia-Wei Chung is a renowned pianist and one of the most sought-after piano pedagogues in Taiwan. She earned both Master and Doctoral degrees in piano performance from Indiana University, Bloomington, where she studied with the legendary pianist Michel Block, who was granted the Rubinstein Prize in the International Chopin Competition in Warsaw in 1970. She also played in master classes of Hung-Kuan Chen, Solomon Mikowsky, John Perry, and Oxana Yablonskaya. Other teachers including Joseph Gingold, Franco Gulli, Luba Edlina-Dubinsky, and Rostislav Dubinsky(Borodin Trio) in chamber music.
Dr. Chung has concertized extensively, performing in the United States, Taiwan and China, actively appearing as a soloist, collaborative pianist, and chamber musician. She was a recipient of the "Rising Star" in Taiwan National Concert Hall. Apart from the regular annual solo recitals in Taiwan National Recital Hall, she has been giving recital tours throughout the island. She also collaborated with instrumentalists and singers playing duet concerts, and also performing new music by Taiwanese composers. In recent years, Dr. Chung was invited to give concerts in China, such as recital in Kulangyu Concert Hall in 2013, and solo appearance in Shanghai Conservatory of Music in 2012. In 2019 and 2018 Dr Chung was invited to International Taipei Maestro Piano Festival for Master classes, and in 2017 Dr Chung served as the honorary guest lecturer in the Music Fest Perugia in Taipei. She also teaches at the East/West International Piano Festival, where she gives recitals and master classes. Dr. Chung has performed with Taipei Symphony Orchestra, Taipei Metropolitan Symphony Orchestra, National Taiwan Normal University Orchestra, National Kaohsiung Normal University Orchestra, Orchestra of National Taiwan University of Arts, and Sun Taipei Philharmonic Orchestra.
Dr. Chung is now Professor at National Taiwan Normal University.