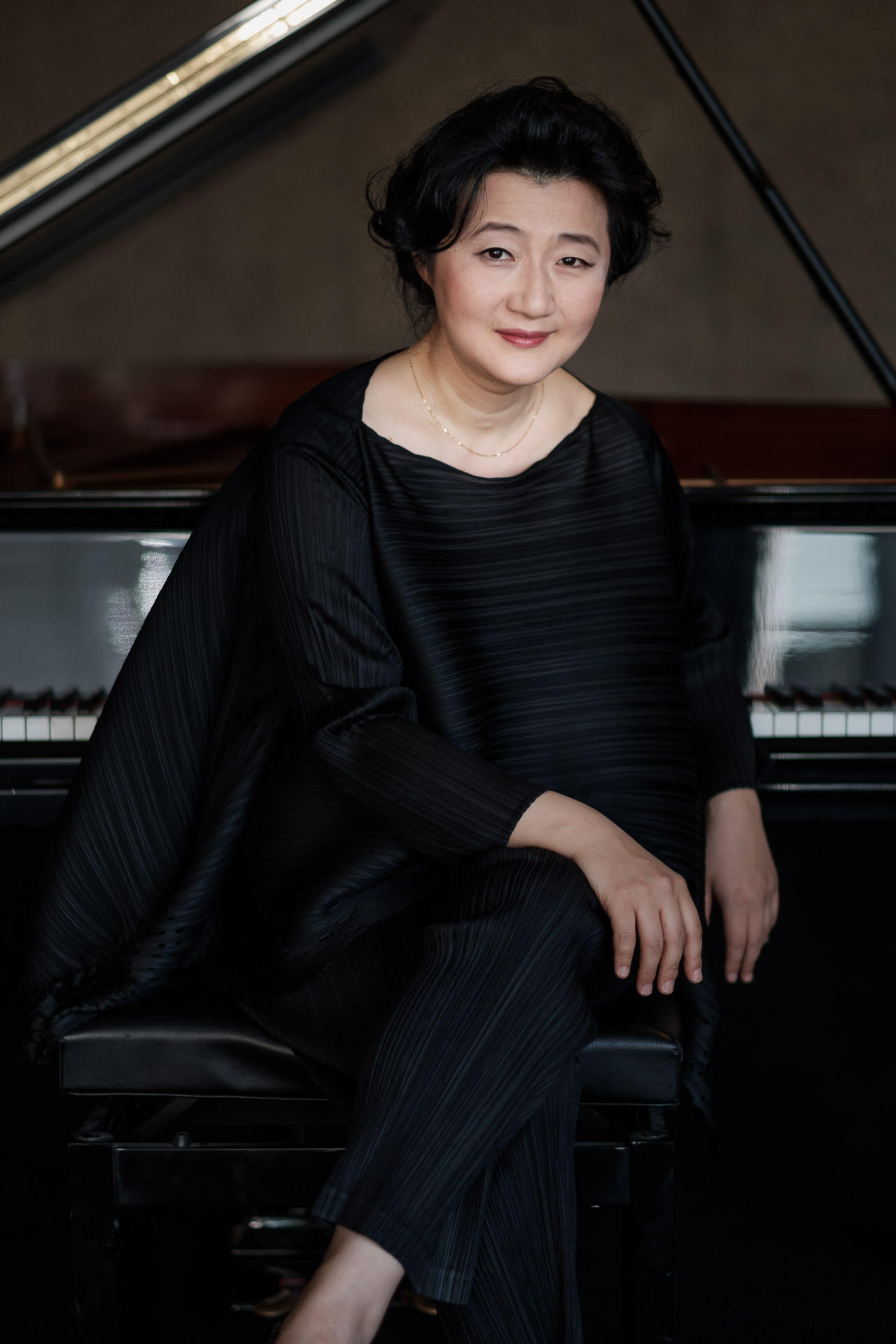 Hie-Yon Choi
"With exuberancy, full of feelings, spoken upto every detail, formulated consicely, souvereign and hesitant at the same time and without any attitude of a perfectionist... reminding us of the young Clara Haskil" – Frankfurter Rundschau
"Lovely rich tone with some beautiful shading" – The Washington Post
"Possessed a temper of fire" – La Liberte de L'Est
One of the most sought-after pianists of her generation, South Korean pianist Hie-Yon Choi first appeared on the international piano music scene when she won prizes at high-profile competitions such as Kapell, Epinal, Busoni and Viotti. Hie-Yon Choi has been since performing with prestigious orchestras of Europe, US and Korea such as das Rundfunkorchester Berlin, the National Symphony Orchestra (Washington DC), the Northern Sinfonia, the Seoul Philharmonic Orchestra and the Korean Broadcast Symphony Orchestra and appears as a soloist in festivals and concert series.
A milestone of Hie-Yon's performing career was the four-year long cycle of all 32 Beethoven piano sonatas at the Kumho Art Hall in Seoul. For this series she received the Arts Award of the year 2005 by the Korean Arts & Cultural Association. Ten years later she completed another Beethoven cycle with all piano trios, violin sonatas and works for cello and piano. Her second cycle of all Beethoven piano sonatas has been taking place in various venues in Korea, Germany and the US and was completed in 2018. Hie-Yon's Other series of performances include ones that explored Brahms and French composers. She Has been collaborating with renowned musicians such as Truls Mørk, Tsuyoshi Tsutsumi, Peter Stumph, Mark Kosower, Romain Guyot, Ulf Wallin, Mikyung Lee, Soovin Kim.
Alongside the canon of the classical piano literature such as Beethoven, Schubert, Brahms and Debussy, Music of 20th & 21st century forms another important part of Hie-Yon Choi's career. A strong advocate of the new music, she was the inaugural Artist-in-Residence of Tong-Yeong International Music festival. She performed works of Olivier Messiaen, György Kurtag, Sofia Gubaidulina, York Höller, Unsuk Chin, Suhki Kang a. o. with the Seoul Philharmonic. Choi has been on the committee of the , the new music series at Seoul National University since 2010 and founded its ensemble-in-residence 2021.
In 1999 Hie-Yon joined the piano faculty at the Seoul National University as the youngest professor in its history. She has been invited to give master classes at music schools in UK, US, France, Germany, Hong-Kong, China. In summer Hie-Yon has been teaching in international music courses in Vienna, St. Petersburg, Amalfi, Brescia and Prague. She also serves as a jury member at international competitions. Most recently she served as a president of the jury at Orléans competition in France.
At the age of 20 Hie-Yon recorded as a recipient of Parke & Davis Award which was released in Germany. She also recorded pieces of Isang Yun, Debussy, Liszt and Prokofieff for Isang Yun Archive in Berlin, SFB (Berlin Radio) and Swedish Radio. Later her was released under Aulos, Korea and Hie-Yon was awarded with the Nanpa Music Prize and the Arts Award. In 2019 her Beethoven album was released under Decca, Korea and bestowed with warm critics in Korea as well as in Europe.
Born in Inchon, South Korea, Hie-Yon Choi gave her debut concert at the age of 6 with the Inchon Philharmonic Orchestra. She won all four most coveted competitions in Korea (Dong-A, Choong-Ang, Korea Times, Ehwa-KyungHyang) and moved to Germany at the age of 18 to study with Prof. Klaus Hellwig. The late Prof. Hans Leygraf at Hochschule der Künste Berlin and the late Prof. György Sebök at Indiana University were further source of inspiration to her.
May 2019