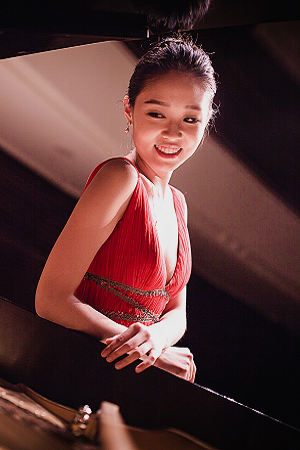 Ruixi Niu
Actively appearing as a soloist and chamber musician, Ruixi Niu has performed in China, the United States, and Europe. Austria Pianist Till Fellner commended on her,saying that "her playing is like a pastel painting with wonderful colors." In 2015, Ms. Niu was invited to a lecture and performance tour of China with University of Tennessee School of Music Director Dr. Jeffrey Pappas and Professor of Piano, Dr. David Northington at Central Conservatory of Music, Minzu University of China, Shenyang Conservatory of Music, Shandong University (Weihai) and Xinghai Conservatory of Music. Recently,Ms. Niu performed Kapustin Concert Etudes in 2017 Music Teacher National Association Conference in Baltimore, Maryland, representing the piano department of WVU School of Music.
As a prizewinner of multiple competitions, Ms. Niu holds the first prize of the Tennessee Music Teachers Association College Solo Piano Competition, MTNA Young Artist Piano Competition, 19th Annual United Stated Open Music Competition and 4th Competition of Foundational Skills of Shandong, China. As the winner of the 2014 University of Tennessee Concerto Competition, she performed Rachmaninoff Piano Concerto No.2 with UT Symphony Orchestra.
Ms. Niu has participated in numerous music festivals, including UT Contemporary Music Festival, InterHarmony International Music Festival in Italy and East/West International Music Festival in China, where she serves as the Administrative Director on board. As an enthusiastic piano pedagogue, Ms. Niu is currently a Graduate Teaching Assistant in West Virginia University School of Music, where she teaches individual lessons and class piano for music majors. She is also a registered Suzuki Piano Teacher and member of Suzuki Association of Americas,currently she serves as a piano teacher at Pittsburgh Music Academy.
Ms.Niu earned Bachelor degree in piano performance from Shandong University (Weihai) in China, under professor Yuanji Fan. She holds both Master degree and Artistic Diploma in piano performance from University of Tennessee, Knoxville, under Dr. David Northington. Ms. Niu is currently pursuing a Doctoral of Musical Arts degree in piano performance at West Virginia University with full assistantship, under Dr. Peter Amstutz.