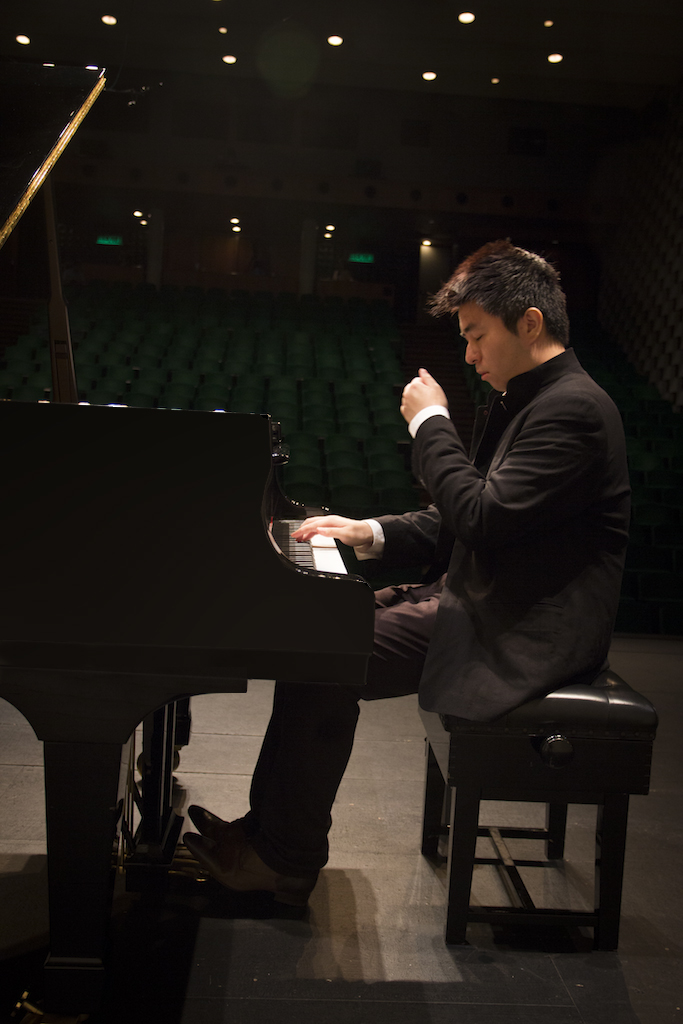 Timothy Kwok
Pianist Timothy Kwok has performed extensively in the States, Europe, and Asia. He has appeared in festivals and concert series such as New York's International Keyboard Institute and Festival, Prague International Keyboard Institute, Italy's Fazioli Concert Hall, Cincinnati's Bearcat Piano Festival, Hong Kong Government's Our Music Talents recital series, Le French May Arts Festival, Hong Kong Arts Festival Plus, University of Hong Kong MUSE series, Hong Kong Citibank's Musical Del Cuore, The Hong Kong Anglican Church's Celeste Series, Guangzhou Symphony Orchestra's season opening, Foshan Music Festival, and Macao Vocal Festival.
As a soloist, Kwok has been praised by eminent American pianist James Tocco, for his "intense personal commitment to music, the ability to vary his sound, and poetic imagination". An avid performer of contemporary music, Kwok was a prizewinner of the Lou Harrison Piano Concerto Competition at the University of Cincinnati. He was invited to give four performances of Chinese-French composer Qigang Chen's piano concerto Er Huang, including the concerto's Guangzhou and Foshan premières, and was acclaimed "exquisite and refined" by leading Hong Kong music critic Chow Fan-fu. Recently, he has successfully performed Igor Stravinsky's piano concerto with the Chung Chi Wind Orchestra of The Chinese University of Hong Kong. He was invited to perform in Beijing Modern Music Festival 2017 at The Central Conservatory of Music, presenting contemporary works by composers from the USA, China, Hong Kong, Macao, and Taiwan.
He has collaborated with renowned musicians like Bin Huang (Paganini International Violin and Munich International Music Competitions champion; Professor of Violin, Eastman School of Music), Huan Jing (Principal Conductor, Guangzhou Symphony Orchestra), Yuan-Pu Chiao (renowned music critic and writer), I-Ching Li, (Concertmaster, Taiwan Philharmonic Orchestra/NSO), Carmen Koon (Music Director, Chung Chi Choir and Orchestra, The Chinese University of Hong Kong), Yazhi Guo (former Suo-na Principal, Hong Kong Chinese Orchestra), Yang Liu (former Zhong-hu Principal, Hong Kong Chinese Orchestra), Xiu-Rong Cheng (Artistic Director, Hong Kong City Chinese Orchestra), Cheng-Feng Hsieh (Professor of Piano, Guizhou Normal University), Lucas Wong (former Professor of Piano, Suzhou University), Ricky Yeung (Di-zi virtuoso; first Doctor of Di-zi performance in China), Guodong Feng (Baritone; Lecturer of Voice, Guangzhou Xinghai Conservatory of Music), Xi Wang (Soprano; Lecturer of Voice, Macao Polytechnic Institute), Amanda Li (Soprano), and Grace Lin (Soprano). He also shares the stage regularly with the top-notch chamber group from Hong Kong, Romer String Quartet, and aims at exploring lesson-known piano quintet repertoire.
Apart from performing, Kwok has been frequently invited by the Radio Television Hong Kong's Radio 4 as a radio presenter, and hosted programme series like "The Forgotten Master ---- Telemann", and "Centennial Debussy". He was also invited to partner with Yazhi Guo in his album City Rhapsody on M. A. Recordings, on which they made the world première recording of the suo-na and piano version of Birds Pay Tribute to the Phoenix. His recent recording highlights also include the complete Fauré-Naoumoff's Requiem, Grieg's Holberg Suite and Liszt's Harmonies du Soir for the Radio Television Hong Kong Radio 4, and a duo recording at Fazioli Concert Hall with pianist Lucas Wong on Titanic Records, which was described as a "fun, energized performance" by the Fanfare magazine.
During his stay in the United States, Kwok was appointed as the only Tangeman Graduate Teaching Assistant of Early Music at the University of Cincinnati, teaching Baroque interpretation, basso continuo, and harpsichord performance. Since graduation, Kwok joined The Chinese University of Hong Kong as a piano and harpsichord faculty member. He is currently a full-time lecturer of the Bachelor of Music Programme at the Macao Polytechnic Institute, teaching piano performance, chamber music, and coordinating performance-related classes. He has also given performances, masterclasses, and conducted seminars at schools like Beijing Central Conservatory of Music, China's Capital Normal University, The University of Hong Kong, The Chinese University of Hong Kong, Hong Kong Baptist University, The Education University of Hong Kong, The Hong Kong Academy for Performing Arts, and Hong Kong Music Institute.
Born and raised in Hong Kong, Kwok began studying the piano at the age of six. His major mentors include Mary Wu, Edmund Battersby, Eugene Pridonoff, Elisabeth Pridonoff, and Vivian Montgomery. Additional studies were with Gabriel Kwok, Ivo Pogorelich, Emile Naoumoff, and Nelly Akopian-Tamarina. He also played for Jean-Yves Thibaudet, Fabio Luisi, Akiko Ebi, James Tocco, Ann Schein, Ian Hobson, Alexander Toradze, and Edward Auer in masterclasses, among others. Kwok graduated from The Chinese University of Hong Kong with a Bachelor of Arts (Honours) in Music, and was named a Fellow of Trinity College London. With the C. F. Hu Memorial Scholarship and Jacobs School of Music Graduate Scholarship, Kwok furthered his postgraduate studies at Indiana University Bloomington, and graduated with a Master of Music degree in piano performance. Kwok then studied at the College-Conservatory of Music, University of Cincinnati with a full-assistantship and stipend; and earned his Doctor of Musical Arts degree in piano performance in twenty-eight months, setting a new record in the history of the school.