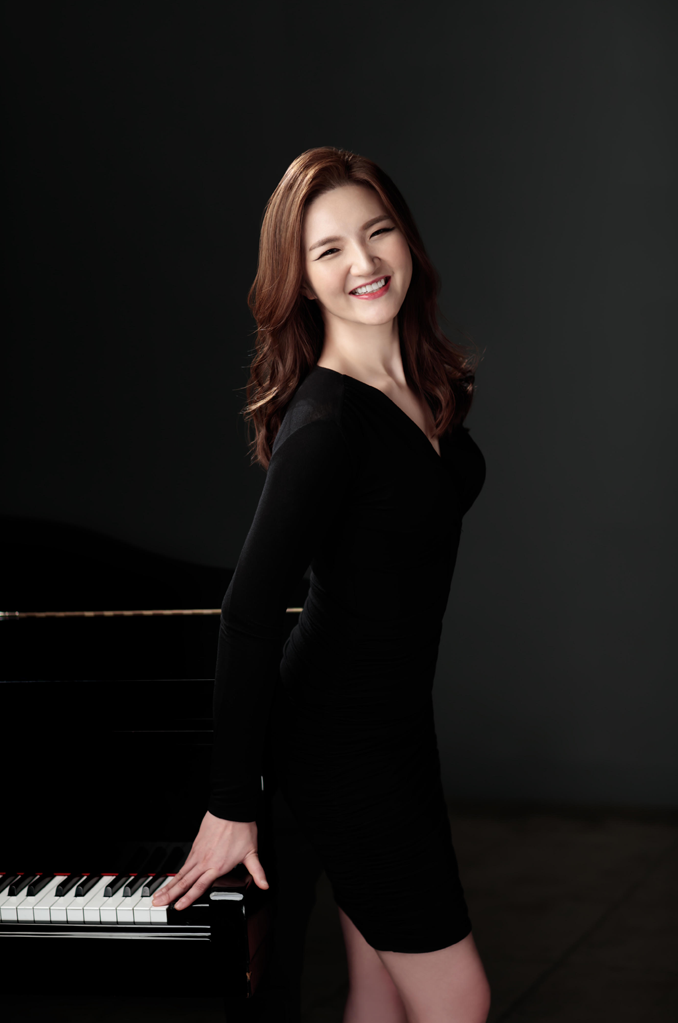 MinJung Baek
"There is a complete absence of anything other than total commitment to the spirit of the music and her playing is imaginative, vital and commanding." By John Lill, British concert pianist
"The pianist, MinJung… has infinite possibilities!" by Stephen Kovacevich, Concert Artist
MinJung Baek started studying the piano at the age four, and showed her talent immediately at her first competition at age five and she had won more than fifty times in Korea national competitions and later, also great success in international competitions including 2012 Beethoven Piano Society of Europe Competition, Skokie Valley Symphony Orchestra Young Artist Competition in USA, Giuliano Pecar, Lyon, Ernesto Falla, Antonio Napoletano, Nuovi Orizzonti, Pietro Argento and Rachmaninoff in Italy which provided her concerts playing Rachmaninoff Piano Concerto No.1,No.2 &Paganiani Rhapsody in one concert in Ukraine and Italy in 2007 and the concerts and her interview were broadcasted through Ukraine national TV station.
MinJung made her first public recital at the age of eight at Yurim Art Hall in Seoul, Korea and at the age 10, she was selected to be the winner of the Young Artist audition of Busan Philharmonic Orchestra which led her orchestral debut with Busan Philharmonic orchestra playing the Beethoven Piano Concerto No. 1 at Busan Arts Center Main Hall. At 13, She has already given recitals and concerts in Seattle, USA, Russia and Zurich, since then, sensitive touch, expressive playing and strong charismatic charm have led her to perform extensively throughout in USA (Steinway Hall in NYC, Carnegie Weill Recital Hall, Kimbell Art Museum in Fortworth, Mixon Hall in Cleveland, Notre Shore Center for performing Arts), all major theatres in Italy, Ukraine, Switzerland, The Netherlands, Germany, Russia, Japan, Romania, Spain, Thailand, Korea and UK(including Barbican Hall, Wigmore Hall, Milton Court Hall, St.Martins in the Field-World Pianist Series, Purcell room, St.James Piccadilly, Warwick Arts Centre, B.Britten Theatre, Royal Academy of Music, South hill Park Arts Centre, King's Place and at the City of London Festival and the Brighton Festival).
Also, she has been invited to play as soloist with Cezch Martinu Philharmonic Orchestra, NewYork Arts Ensemble orchestra, Korea Arts Symphony orchestra, West Chester Symphony orchestra, Kiev Philharmonic orchestra, Poltava Symphony orchestra, Yalta Symphony orchestra, Bellini Symphony prchestra, PoHang Philharmonic orchestra, SeongNam Philharmonic orchestra, NewWorld Symphony Orchestra(under the most famous Korean Maestro Nan-Sae Gum) and Exeter Symphony Orchestra and her playing and interview has been broadcast on KBS, Rai, ITV, PBS, WQXR and the Ukraine national radio.
MinJung is also a recipient of numerous awards, including, the Gold Medal by the Worshipful company of Musicians, The Highest Student Award of School Honor from Seoul Arts High School, Artist Grant by NewYork Foundation of Arts, Artist Proclamation Award by Jeff Schonberg, Illinois Senator of USA, Mannes Presidential Award, Earl Wild's Teaching Fellowship by Ivory Classic, which led to have the rare honor and privilege play for legendary Mr.Wild in Palm Spring,CA and the Guildhall Trust since 2010.
And she has been featured at numerous music festival including Russia Glinka, International Keyboard Festival and Institute in NYC, NewYork Contemporary Music Festival, NewYork Late Romanticism Festival, TCU/Cliburn Piano institute in Fortworth, where she had the pleasure of being filmed for a documentary on Pianist Menahem Pressler, Sarasota, Samuel Barber, Hamamatsu International Piano Academy in Japan, NordwestdeutschePhilharmonie, Bologna, Holland International Music Session, Steinway Rising Young Pianist Festival, MITO in Milan, Etna Feste, Imola in Musica, Dartington, Schleswig-Holstein, Oxford Piano Festival and Dino Ciani Music Festival.
As an avid chamber musician, in USA and Italy she has collaborated with the renowned Modigliani String Quartet, Tononi String Quartet, Navarra String Quartet, duo with American Flutist Daniel James coached by world class flutist Jacques Zoon and won the top prize at the Concorso Umanitaia in Milan and Irish Cellist Brian O'Kane.
MinJung completed her studies at Mannes college of Music in NYC under Jerome Rose, the prestigious Accademia Pianistica Internazionale "Incontri col maestro" di Imola with Leonid Margarius and the Master of Performance and the Artist Diploma both with Distinction at the Guildhall School of Music & Drama in London on a Full scholarship under the guidance of Ronan O'Hora.
She has performed in numerous masterclasses and influenced by many distinguished musicians, Stephen Kovacevich, Fou Chong, Yin Cheng Zong, Richard Goode, John O'Conor, Elisso Virsaladze, Fabio bidini, Robert Mcdonald, Seymour Bernstein, Sergei Babayan, Robert Levin, Alicia de Larrocha and Menahem Pressler.
After giving the successful and critically acclaimed recital at Seoul Arts Centre in January 2015, she joined the piano faculty as the youngest candidate at KyungHee University which she holds alongside her performing career and specially made her successful debut tour in Thailand and China (8 cities including Shanghai, Xiamen, Harbin) in the highlights of the 2016/2017 season.
Recently, she has been invited as a visiting professor at the L.Canepa Music conservatory in Italy starting from November 2018 and invited and returned to give her recital at the Milton Court Hall in London as a part of Dinstinguished Alumni Concert Series of the Guildhall School of Music and Drama.
MinJung has been also appointed as the Artistic Director of Seogwipo International Music Festival from March 2015 and is looking forward to returning to the Carnegie Weill Recital hall in NYC to give her recital in July 2019.